J.K. Rowling's Patronus quiz has arrived, and it doesn't disappoint.
It may've been a long wait, but the official Patronus quiz on Pottermore awarded our patience. The music, the effects, and the animations raise the bar for personality quizzes. It's simply magical!
Equally impressive? The number of animals within the Pottermore Patronus quiz. Each animal comes with its own series of animations, which might explain why it took so long for Pottermore to create the quiz. I've personally enjoyed watching my West Highland Terrier prance around the screen!
Turns out there are many animals, both from the Muggle world and the Wizarding world (though the latter are rare). Below, we've compiled what we believe is a nearly-complete list of Patronuses available on Pottermore's quiz. We started with MuggleNet's list, then added a bunch more we found on Reddit.
We've verified all of these animals and their spellings by looking on Twitter for official tweets from quiz takers.
Pottermore's Patronus Quiz Animal List
Rare animals are marked. Pottermore is also telling some people that their Patronus is "unusual" — we don't know if this means if the animal is rare, or if it's just a little less common than other Patronuses.
Aardvark
Abraxan Winged Horse
Adder
Badger
Bat
Basset Hound
Bay Mare
Bay Stallion
Beagle
Black Bear
Black Mare
Black Mamba
Black Stallion
Black Swan

Black and White Cat
Blackbird
Bloodhound
Borzoi
Brown Bear
Brown Hare
Brown Owl
Buffalo
Buzzard
Calico Cat
Capuchin Monkey

Cheetah
Chestnut Mare
Chestnut Stallion
Chow Dog
Crow
Dapple Grey Mare
Dapple Grey Stallion
Deerhound
Doe
Dolphin

Dragon
Dragonfly
Dun Mare
Dun Stallion
Eagle
Eagle Owl
Elephant
Erumpent
Falcon
Field Mouse
Fire-dwelling Salamander (rare)

Fox
Fox Terrier
Ginger Cat
Goshawk
Granian Winged Horse (rare)
Grass Snake
Great Grey Owl
Grey Squirrel
Greyhound
Hare
Hedgehog
Heron J.K. Rowling's
Hippogriff (rare)

Hummingbird
Huskey
Hyena
Ibizan Hound
Impala
Irish Wolfhound
King Cobra
Kingfisher
Leopard
Leopardess
Little Owl
Lion
Lioness
Lynx
Magpie
Mastiff Dog
Manx Cat
Marsh Harrier
Mink
Mole

Mongrel Dog
Mountain Hare
Nebelung Cat
Newfoundland
Nightjar
Occamy
Ocicat
Orangutan
Orca
Oryx
Osprey
Otter

Peacock
Pheasant
Piebald Stallion
Piebald Mare
Pine Marten
Polar Bear
Polecat
Python
Ragdoll Cat
Rat
Rattlesnake
Raven
Red Squirrel
Rhinoceros
Robin
Rotweiller
Runespoor (rare)

Russian Blue Cat
Saint Bernard
Salmon
Scops Owl
Seal
Shark
Shrew
Siberian Cat
Snowy Owl (unusual)

Sparrow
Sparrowhawk
Sphynx Cat
Stag
Stoat
Swallow
Swift
Thestral (rare)

Tiger
Tigress
Tokenise Cat
Tortoiseshell Cat
Unicorn
Vole
Vulture
Weasel
West Highland Terrier
White Mare
White Stallion
White Swan
Wild Boar
Wild Rabbit
Wildcat
Wolf
Wood Mouse
Are we missing one? Let us know in the comments! And as a reminder…
Here are the Patronuses of the Harry Potter characters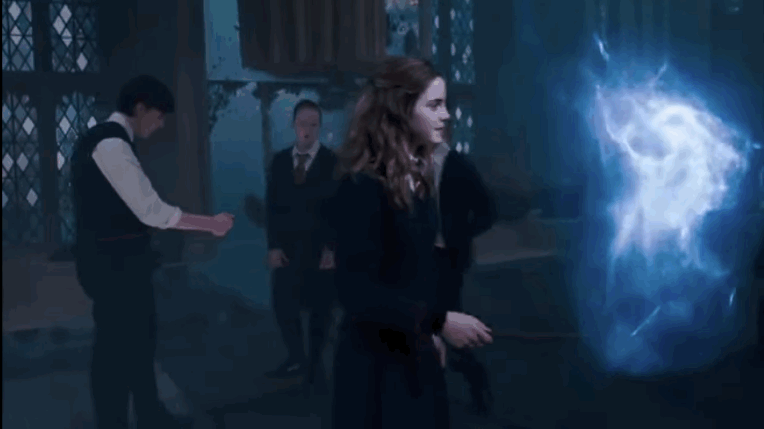 Harry Potter – Stag
Lily Potter – Doe
Sirius Black – Dog
James Potter – Stag
Ronald Weasley – Jack Russell Terrier
Hermione Granger – Otter
Ginny Weasley – Horse
Seamus Finnegan – Fox
Albus Dumbledore – Phoenix
Aberforth Dumbledore – Goat
Kingsley Shacklebolt – Lynx
Luna Lovegood – Hare
Remus Lupin- Wolf
Nymphadora Tonks – Wolf
Ernie MacMillan – Boar
Severus Snape – Doe
Minerva McGonagall – Cat
Cho Chang – Swan
Dolores Umbridge – Cat
Rita Skeeter – Beetle
J.K. Rowling – Heron
Character list via the Harry Potter Wiki.