The 100 season 3 won't premiere until spring 2016. But it's okay. At least… it will be.
The 100 is not only my favorite show on television right now, but it's quickly becoming one of the only shows that's managing to sustain my interest.
Don't get me wrong: network television has its moments. There are so many talented writers, talented actors and talented directors working round the clock to bring us provocative, hard-hitting, relevant entertainment.
Related: 2015 TV Renewals and Cancellations: Your complete guide
And yet, it often feels like network execs have a way of squeezing even the best idea into a generic, repetitive format, terrified of breaking the mold and losing their all-important ratings stats. But, hey, let's not go there.
One thing we can certainly all agree on is that The 100 is one of network TV's most brightly shining beacons of creativity and originality right now.
And I'm not gonna lie: the fact that The CW is pushing it to mid-season 2016 terrifies me.
Related: The 100 season 2 finale recap: Ask forgiveness, not permission
But, despite the fact that this smells vaguely of gentle cancellation (this decision does NOT rule out a season 4, guys, don't panic!), the fact that we have to wait longer than expected for season 3 isn't all bad news. Right? Right!
Having myself gone through all these steps in the space of like half an hour, I figured I'd share my coping mechanism with fellow struggling fans, who are having a hard time staying optimistic.
Step 1: RAGE!
We'll save the optimism for later. It's okay to be mad, at least for a few minutes. You just found out you have to wait a whole damn year for The 100 season 3!
Let our your inner gorilla and rage away, this is a safe space.
Step 2: Commiserate with your fellow fans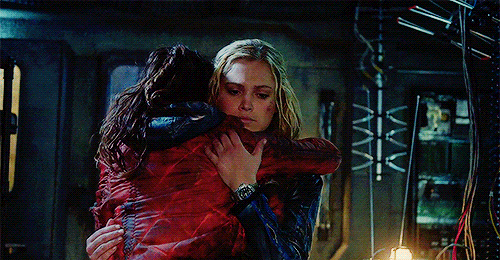 It's okay if you cry. We're all fandom vets here, we know how emotional it is when a show you love feels suddenly threatened (because even though the delay doesn't automatically mean imminent cancellation, the news certainly doesn't inspire confidence).
But channel your inner Clarke and pull yourself together, because your fandom needs you. (And don't send rage tweets to The CW. It won't help.)
Step 3: Put your game face on
Step away from your keyboard. Take a deep breath. Fuel that fire and allow yourself to acknowledge the fact that, yeah, The CW's decision to delay The 100 really, really sucks.
But no good will come of crying about it, so let's get stiff-upper-lippy (it's the Grounder way… if the Grounders were British) and push through the pain. We're The 100 fans, we got this.
Step 4: Don't try to work out what it means
Believe me, I needed to repeat this step a few times myself. Immediately following the news, my mind was full of conspiracy theories: is The CW phasing out The 100 and Beauty and the Beast to make room for their DC Comics franchise and the growing Julie Plec empire?
Well… it's entirely possible, of course. But we don't know — and we can't know — what went into this decision. Is a The 100 season 4 off the table? No, absolutely not. So let's not waste time trying to read the executives' minds.
Step 5: Look on the bright side
No, really! There are several. With The 100 season 3 delayed six (ish) months, we've got more time for story development, more time for writing, more time to make the show AMAZING.
No showrunner wants to plan a season as if it's their last, but with The 100 pushed back to the 2016 mid-season, we have to imagine that Jason Rothenberg might be making a contingency plan, in case the season 3 finale ends up being the series finale.
While principal photography will still go ahead as scheduled, the extra wait gives the creators a chance to catch their breath and take their time with post-production, to make sure season 3 is absolutely spectacular.
If this does end up being the last season, at least we're guaranteed to get a damn good 13-16 episodes.
Step 6: Play with your head-canons
Although it's fun to actually watch the show progress, the best things about fandom happen during the off-season.
Reading/writing fanfiction, role-playing as your favorite characters, doing photosets, drawing amazing portraits, and speculating about what lies ahead… that's what really brings the show to life in your imagination.
Six more months of waiting means six more months of not knowing what happens next. No characters can die, no ships can sink, and nothing can disappoint you. You're free to explore canon and develop your fanon the way you want it, and to use the show as a creative outlet.
Step 7: Watch (and help) the fandom grow!
Inspired by Layne Morgan and writer Shawna Benson's heartening Twitter exchange, I want to point out that six more months of waiting means six more months of getting everyone around you to watch The 100.
You don't want it cancelled? Great, then get the whole world to watch it and help the ratings grow! You've got time.
Step 8: Appreciate the fandom while it's there
Remember: Even if The 100 returned in the fall, a season 4 pick-up still wouldn't be guaranteed. Season 3 might very well be the show's last (or it might not be), but at least we know we're getting a season 3, right?
There are so many cool things happening in The 100 fandom right now. Conventions, The 100 Charity Project, and the vibrant Tumblr community are just a few ways in which you can interact with fellow fans (and the actors and writers, because The 100's creative team ROCKS!), and The CW just gave us six more months of active-fandom time!
Now, having gone through those eight steps, I can tell you with some shaky confidence: it's gonna be okay.
Am I still pissed off? Hell yeah. But ultimately, these decisions are out of our control. All we can do is show our love for The 100, and enjoy being a part of the fandom while we can.