As an Australian, I have zero first-hand experience of Thanksgiving. However, I've watched a lot of American TV in my time, so I think I've got the gist of what's going on.
Thanksgiving is a uniquely American holiday, and in case you're unaware, I'm one of Hypable's few Australian contributors. The rest of the English-speaking world certainly grows up inundated with American pop culture – I'd warrant that I know a bit more about American traditions than most of my Hypable friends would know about Australian ones – but the reality is that most of what anyone Down Under knows about Thanksgiving can be chalked up to Hollywood.
Now, I can't remember every single Thanksgiving-themed TV episode or movie that I would have come across since childhood – though The Simpsons, Seinfeld and The Addams Family Values stand out – but every scrap of information I possess about this holiday would have been learned this way. I'm going to tell you what I've picked up as an outsider, purely by osmosis. Here's everything I know about Thanksgiving as a consumer of American media.
Theory: It's about the discovery of America
From what I've gathered, Thanksgiving is the day when Westerners discovered, or came to, America. Was this because of Christopher Columbus – he's the guy who decided that Native Americans were Indians, right? As far as I can tell, some white people, possibly including Christopher Columbus, came in boats and had a battle with the indigenous population of America, or gave them infectious diseases or something, then they gave the survivors some food, and it appears to be spun as the two cultures becoming friends. Hmm.
We have a day celebrating the time British settlers took over this country, too – we just call it Australia Day. It's basically the day when all the criminals who got deported here arrived – cool national holiday, I know. Left-wing and indigenous Australians tend to call it Invasion Day, and the controversy around celebrating it grows every year.
There seems to be a similar vibe with Thanksgiving: Buffy the Vampire Slayer's season 4 episode, "Pangs," featured a vengeful Native American spirit – and some blunt words from Spike – that forced the Scoobies to confront the reality and guilt of white settlement. Keeping with theBuffy theme, I've got vivid memories of a tiny Christina Ricci as the socially conscious Wednesday Addams, refusing to play nice in her role as a Native American woman opposite tiny Harmony (Mercedes McNab) as a pilgrim. What is a pilgrim, by the way?
Theory: It's about turkeys
Another major theme of Thanksgiving seems to be turkey murder. I've seen a lot of this on TV, including in The Simpsons and NBC's short-lived The New Normal, – people going out to pick out a turkey to kill and cook and being faced with the reality that their meat was once alive, ending up in a vegetarian Thanksgiving. Apparently, it's less traumatic to eat turkey if you're able to pretend that it's just a pink lump in a freezer bag and not a dinosaur-sized live bird being raised and killed for your pleasure.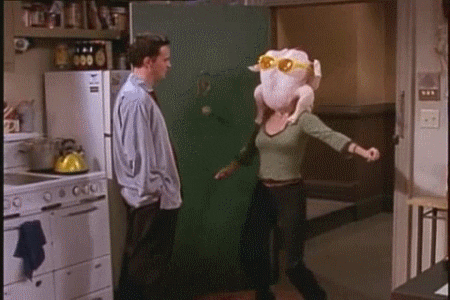 [Source]
But if you go frozen, the turkey will take about five hours, or two days, or six months to thaw and roast, and you may have to pull a Jessica Day and put it in the tumble dryer. Fresh or frozen, the turkey seems to be the be-all and end-all of Thanksgiving – how it's cooked, who carves it, who gets to eat which part. This seems to be a delicate and high-stress operation, with some sort of social hierarchy involved.
Why? Can anyone explain to me why eating turkey is such a big deal? It doesn't seem worth it. Why does it have to wear little paper hats on its feet? Why does it have to have cranberry sauce? Why is it a betrayal of your grandmother's memory if the cranberry sauce comes in a can? Why does the President have to pardon a turkey? No, seriously, what the hell is that? Isn't roast turkey also a Christmas dinner thing? Aren't you about to go through this all again in December? Can't we just leave turkeys alone?
Theory: It's about pie
The second food product I relate to Thanksgiving is pie. Pie is confusing to me at the best of times. In Australia, this is what we instantly think of when we think of a pie: a hand-held, burger-sized, meat-filled snack. I can get behind the dessert pie concept – apple, cherry, peach, okay. That's like a lovely pastry tart, and not unheard of. But then we hit a roadblock with pumpkin.
Guys, pumpkin is not a dessert. Pumpkin is a vegetable. Pumpkin is for curry, and soup, and chopping up into chunks with garlic and potatoes and other roasting items. It's for risotto and haloumi and spinach wraps. It's a savory food. Why are you taking a savory vegetable and putting it inside a savory snack and calling it a dessert? Are you feeling okay? Can I offer you a pavlova? Could have we avoided that one very weird Gossip Girl episode?

[Source]
I don't even want to talk about the whole marshmallow-on-yams thing? Again – a yam is a vegetable. Is this marshmallow dish a dessert or a main course side? This is very unclear. Is this some sort of joke? Why don't you go make a straight-up marshmallow pie, and roast up some pumpkins and yams around your murdered turkey? There we go. Nailed it.
Theory: It's about Christmas
The possibility that Thanksgiving is related to Christmas for y'all is one I'm quite uncertain about, but I can't work it out. Every time people in TV and movies celebrate Thanksgiving, they start talking about Christmas or just call it all "the holiday season." Are these holidays connected in America? Is Thanksgiving the official start of Christmas?

[Source]
I'm aware of the big Thanksgiving parade with gigantic inflatable things that takes place in New York – does this happen in every city? The parade generally seems Christmas-themed – Santa is there and everything. It happens in Miracle on 34th Street, so it must be true.
Theory: It's about shopping
One aspect of Thanksgiving that's really confused me in recent years is the drama about shopping. From the themed episodes I've seen, like New Girl's season 1 episode, "Thanksgiving," – not to mention watching Colton Haynes, of Teen Wolf and Arrow fame, live-tweet his family's mission to purchase a fire pit, which was pretty funny – Thanksgiving seems to involve some sort of major shopping sale, where people queue up overnight to get into the store.

[Source]
I've gathered that there is some sort of competition between retailers about who opens earliest, or latest, or whatever, but I'm still wondering… What does this holiday have to do with shopping? In Australia, we have major retail sales directly after Christmas, which makes sense because they're selling off all the things left over from the gift-buying rush. What exactly is the point of this? And why is it Black Friday? If you're calling a day "black" anything, my Australian sensibilities automatically assume that it's a national day of mourning due to bushfires devastating a huge area. That's how we roll.
Theory: It's about family, in all forms
The one thing I'm sure of is that Thanksgiving is an important time to gather with friends and family and share the ridiculous food and, perhaps, shopping experiences. From That 70s Show to Dawson's Creek to Friends to House to Modern Family, I'm well aware of the well-meaning and secular tradition behind this holiday, to come together and give thanks for the good things in life. Someone will probably end up having a massive fight, but people don't want to spend this holiday alone.

[Source]
Those who are away from their home create their own little found families to spend Thanksgiving with, even if that sometimes results in a Scissor Sisters routine starring Sarah Jessica Parker – or perhaps that's only if you're Kurt Hummel on Glee. It's a lovely sentiment, but with the same stresses of turkey perfection, family feuds, shopping sprees and cross-country travel waiting for you just one month later at Christmas, may I recommend combining these two holidays into the same weekend? Just a thought.

[Source]
Have a happy and safe Thanksgiving!