Characters from the Harry Potter series will be appearing in the Fantastic Beasts movie. I repeat: Harry Potter characters will be appearing in new movies.
Since learning about the Wizarding World spinoff a few years ago we've all been hoping that an old character or two from J.K. Rowling's original Harry Potter series could make an appearance in Fantastic Beasts and Where to Find Them. It makes perfect sense! In fact, we at Hypable did an article on which characters could conceivably show up in Fantastic Beasts way back in September '13. And now, for the first time, we're hearing from an official source who strongly hints that this will happen.
Speaking to MTV recently, Fantastic Beasts co-star Dan Fogler (who plays Jacob, a Muggle with a lead role) revealed that not only will we hear about Harry Potter characters, but we'll be seeing them too. "[…] You do meet, as the stories go along, you… I can't give it away! But you will see, you will hear mention of your favorite characters. You may even meet their younger counterparts along the way."
When MTV asked if Albus Dumbledore could be one of the characters appearing in Fantastic Beasts, Fogler replied, "I take the fifth!" (For you foreigners, "the fifth" refers to the United States constitution's Fifth Amendment, meaning he doesn't have to answer the question.) Watch him share his response:
The possibility of Dumbledore appearing in Fantastic Beasts heated up last week when WB released a new trailer for the movie, in which the Hogwarts Headmaster (then Transfiguration Professor) was referenced, and a relationship with Newt was teased.
On the newest episode of MuggleCast, our Harry Potter podcast (subscribe via iTunes!), we spoke about Dumbledore potentially appearing in the movie. One theory we had was that Fantastic Beasts will be a redemption story that sees Newt trying to get back into Hogwarts after being expelled for a beast mishap. Newt and Dumbledore could potentially meet on screen once the former saves the day in New York. Listen to the episode below:
Dumbledore may then help him get back into school, which as J.K. Rowling teased, may be challenging:
Dumbledore was a young teacher at the time Newt was expelled. He wasn't able to revoke expulsions. https://t.co/UskHwSQvtJ

— J.K. Rowling (@jk_rowling) April 11, 2016
Nonetheless, the possibility of a young Dumbledore (or another character) showing up in the Fantastic Beasts trilogy seems very very likely at this point. This'll be me today every time I think about a Harry Potter character making an appearance in a movie for the first time in five years: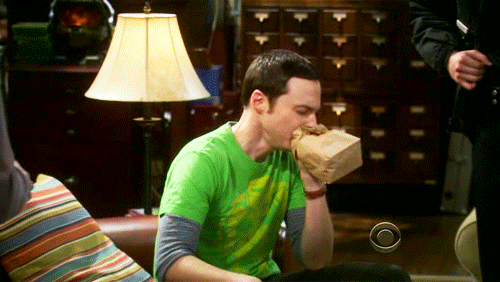 Which Harry Potter characters would you like to see appear in 'Beasts'?