HBO keeps their total number of Emmy nominations in tact as Girls' Peter Scolari secures the guest actor spot from Veep's Peter MacNicol.
If this happened to any other comedy in the bunch, it would not be half as funny. The bulk of Veep's fifth season was spent trying to secure a win for President Selina Meyer.
Fitting then that days after the Emmy nominations rolled out, the series faced a recall of sorts when it lost a nomination due to Peter MacNicol's appearance as Jonah Ryan's uncle Jeff Kane in one too many episodes. The Television Academy ruled that Peter Scolari is now the nominee for guest actor in comedy for his role in HBO's Girls.
How does one lose a guest actor in a comedy series Emmy? By appearing in more than 50% of the series episodes. According to the Emmy rules an actor becomes disqualified as a "guest" if they appear in more than half of the series episodes. Even more fitting for Veep it may all be due to Catherine's documentary episode!
But the man taking his place is just as deserving as the foul-mouthed politician. Earning the only Emmy nomination this season for Girls, Peter Scolari who plays Tad Horvath, father to Lena Dunham's Hannah will now contend for the trophy this fall. This season saw great performances from Scolari who explored his sexuality after coming out to his family and wife of over 20 years in season 4. One particular episode, the second of the season, "Good Man," finds Hannah comforting Tad after his first online hookup with a charming older gentleman who sold boots for a living. On that episode alo even, Scolari proved he is the right man to round out the category.
Scolari joins previously announced nominees Bob Newhart (The Big Bang Theory), Martin Mull (Veep), Tracey Morgan (Saturday Night Live), Larry David (Saturday Night Live), and Bradley Whitford (Transparent).
Veep may have lost one, but they still walk away with 16 nominations in comedy categories including one for Julia Louis-Dreyfus and Tony Hale, both of whom have one perviously for their roles as Selina Meyer and Gary Walsh respectively.
Sorry, MacNicol. Your scenes were just too good to hit the cutting room floor. We hope you pour one out and celebrate the rest of Veep's accomplishments!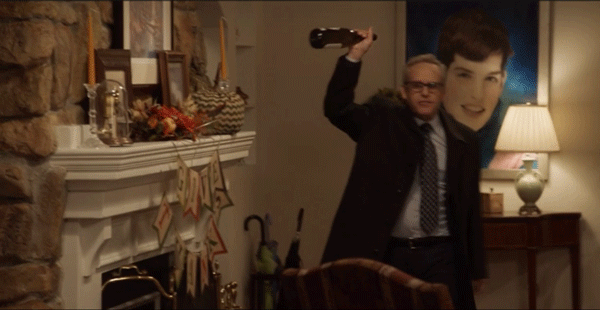 Watch the 68th Primetime Emmy Awards Sunday, September 18 at 8:00 p.m. ET on ABC.
With Incredibles 2 hitting theaters with its record-breaking $180 million opening, we've updated our definitive ranking of all 20 Pixar films.