Chances are you're probably not watching MTV's new drama Eye Candy. Hypable is here to tell you why that really needs to change.
It's time for some real talk, readers. If you're a fan of Eye Candy and are interested in having it around for another season, it's probably time to start calling in reinforcements.
As we shared earlier, the show debuted with lackluster ratings, and sadly, things haven't seemed to improve much since. Which means viewers need to start spreading the word and start cluing others in on this hidden treasure they're probably missing.
So here's our official pitch: Five reasons you should be checking out MTV's Eye Candy.
1). Girl Power!
Ok, where the ladies at?! Because if you're sick of the sad and tired trope where women need to be rescued or sacrificed by the bad guys to advance a plot, then you've come to the right place! First of all, our leading lady is a badass.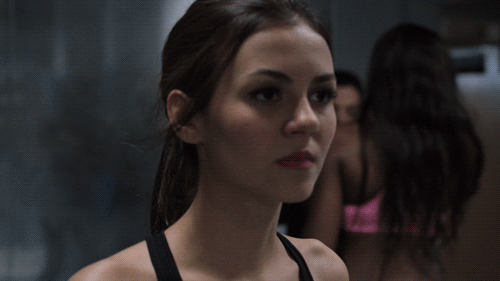 Source.
Secondly, do you know how straight up refreshing it is to tune in every week and see so many boys being brutally sacrificed and torn apart? A few ladies get lost along the way as well, but for the most part it's a girl's world that the boys are lucky to be a part of.
Plus, no spoilers or anything, but in episode 2 a cry of help ("Lindy, get me out of here!") is screamed from a male cop that is actually supposed to be 'protecting' her. So far she's definitely her own hero and that's reason enough to get excited.
2). Adult Audience
Ok here's an important one that I don't think a lot of potential watchers totally grasp. Just because this show airs on MTV doesn't mean it's for teens only. In fact, the age demo is skewed slightly higher.
It has to fit into the network vein, so it has a young vibe to it, but ultimately it's a horror show.
A horror show centered around twenty-somethings. There are more procedural elements to it as well — making it more like CSI and less like Pretty Little Liars. So if you're writing Eye Candy off as a show about teens, for teens, you're fundamentally wrong.
3). Supporting Characters
You know what's great? Ensemble casts are great. They add flavor and fun, sass and spunk. And as much as you need a good central character to ground a show, supporting characters are basically just as important. Eye Candy is no exception.
Luckily for us they have some FANTASTIC supporting roles. First, there's the vivacious, almost threateningly adorable, Sophia.
Source.
The stereotype-shattering ladies man, George.
Source.
The too cool for school, ambitious, Connor.
Source.
And last but certainly not least — the perfectly coiffed, handsome as heck, detective Tommy.
Source.
When their powers combine, you get quite a show. Something entertaining around every corner. But the coolest part? Chances are one (or more) of these people are murderers. So you know — that keeps things interesting.
4). The Tunes
To put it simply, the Eye Candy soundtrack is banging. If you're a Teen Wolf watcher, then you should know there is a little Eye Candy crossover in this department. Laura Webb is the music supervisor for both shows, and she's worked her magic again.
Check out Bloodflows by SOHN, Holy by PVRIS, or If It Hurts by Gallant to get a taste of a few of the best tracks so far.
For crying out loud, we're only four episodes in and there have already been 39 songs worked into the show! It's just as important to tune your earns in as it is your eyes.
5). Cast of Cuties
There's not a whole lot to discuss here. If you follow any of the kids on social media, like you should, then chances are you probably already know how adorable these babes are.
From stories about secret late night shenanigans, to boyfriend besties, to stolen selfies, you get pretty quickly how close this cast is with each other.
Plus, they're also just really cute??