"Insta-love" gets a lot of hate, but is it really deserving of it? Lani Forbes, author of the upcoming YA novel The Seventh Sun, certainly doesn't think so.
Aside from pregnancy plots, "insta-love" is, quite possibly, one of the most hated tropes in storytelling. We see it time and again in books, movies, and television, showing us two individuals who fall in love in a matter of minutes, hours, or days. It never seems realistic when we think of it in terms of time.
But what if "insta-love" isn't actually deserving of all the hate and insults? What if it's actually more realistic than we realize?
Author Lani Forbes, whose debut novel The Seventh Sun features a swoon-worthy romance in the face of a terrible apocalypse, proposes that, if we look at "insta-love" from a different angle, it isn't all that infeasible after all.
Why does insta-love get so much hate?:
A guest post by Lani Forbes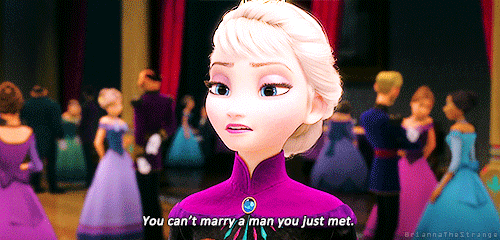 When Elsa from Frozen tells Anna she can't marry a man she just met, be honest, you breathed a sigh of relief. Finally, a Disney movie that didn't expect us to believe that a couple is ready to get married after barely knowing each other for a day. Sometimes even less.
I'm looking at you Sleeping Beauty. And Ariel. And Snow White. But I digress…
Nothing can make a reader gag and throw a book faster than a poorly done insta-love trope. But if we all seem to agree that it doesn't work in stories, why do so many writers try to use it?
Often when we are writing a story, the plot or the setting constricts us to a VERY SPECIFIC timeline. I love a good slow-burn romance. There's something so satisfying about having to wait before finally getting what you want. It makes victory taste that much sweeter.
But sometimes the plot of a book doesn't lend itself to a good, long slooooooow burn. Many thrillers take place in the course of a few days. It's not like you can ask the serial killer, "Hey, can you take it slow for a few months so we can get to know each other? Great, thanks!"
No one likes a book without tension (YAWN) and one of the key ingredients for tension is what author Dan Brown refers to as the "clock". There has to be a time limit on the events happening or else the tension and urgency gets lost. An exception to this might be with romance novels where the romance IS the main plot, but in many plot driven novels, you need the tension of a time crunch to keep readers interested. But does that mean those novels can't have a believable romance? Absolutely not!
I think we get so hung up on the idea of TIME, that we forget the most important part of falling in love: it's an emotional experience. How long does it take to fall in love? There is no set answer to that question because it isn't about time at all.
It's about attachment.
I'm going to delve into the realms of science here for a moment, so bear with me. Human beings are pack animals. We are designed to bond and connect to each other as a means of survival. It's part of the reason why the parent-child bond is so important. The child (at least in a healthy environment) learns that that parent is the safe base that they can venture out and explore the scary world from. This doesn't change when we grow up.
Love is about being able to trust another person to be your "safe place". It's an actual need that humans have to feel safe and connected to each other. It's why nothing in the world is more torturous than isolation or abandonment. The ones we love are a solid foundation, a place where we can be truly and fully ourselves and know that we are not alone.
So what does that have to do with characters falling in love in two days?
Here's the kicker: it's not about the two days. In well done love stories, it's about what happens to them EMOTIONALLY in those two days.
In the real world, two days doesn't seem like enough time to form a deep love connection. So why does insta-love seem to work with some stories? Because the author is able to take us on a believable EMOTIONAL journey in that time. We don't pay attention to time because the natural emotional progression makes sense. We can relate to it, feel what the characters are feeling, so we don't question it.
Now don't get me wrong, it's hard to really get to know someone in short amounts of time. The longer you have, the more time there is to slowly bond through vulnerability and acceptance. But don't forget that extreme stress tends to show true character pretty darn quick, and more often than not, the characters in books are facing extremely stressful situations. Go through something traumatic with another person, and you learn a lot about that person very quickly.
One of my favorite examples is actually a Disney princess movie. If you've ever seen Tangled, you know you totally cried at the end when ***SPOILER*** Flynn took the knife in his stomach to save Rapunzel from the narcissistic witch pretending to be her mother.
We watched Rapunzel cry over his body and sing "bring back what once was mine" and we totally sobbed like pinched babies. We believed their love, their willingness to sacrifice for each other…and yet guess what? The story took place over TWO DAYS!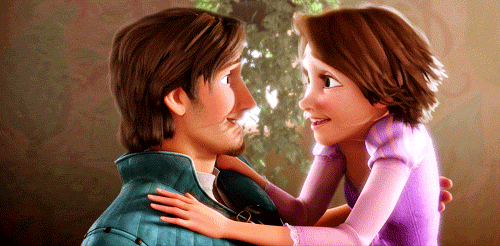 What the heck?
I think the answer lies in what Flynn and Rapunzel experience EMOTIONALLY over the course of those two days. Not only do they experience some pretty intense circumstances and survive together, they also are incredibly vulnerable with each other. Vulnerability and acceptance are the keys to connection. I'd even argue they are the keys to falling in love.
When we expose the deepest parts of who we are to another person, when we share our hurts, our fears, our dreams, and our joys with another human being and they not only accept us, they relate to us, it creates a bond. It creates attachment.
Rapunzel shared the truth of her abilities with Flynn and exposed parts of herself she was never able to show anyone before. And he did the same, sharing his true name and wounds from his childhood with her. They danced and painted and shared her dream of seeing the floating lanterns. They went from strangers to lovers pretty darn fast, but we watched the natural progression of it as the plot pushed them there. And we are totally there for it!
We believe their love story because so much changes emotionally between them in those two days.
So, does true love happen immediately? No, I don't believe it does. Infatuation and attraction can be instantaneous sure, we've all felt that at some points in our life. There's a biological component to that. But falling in love is something that is measured in emotional growth and connection, not chronological time.
Stories grab us because they take us on an emotional journey. They hold us by the heartstrings and pull us into other worlds as we live and learn and love vicariously through the characters. Story is all about emotion. If we don't care, we will stop reading.
So I challenge you to lessen the hate on "insta-love" based on timelines alone and pay attention to the emotional changes that are happening. Chances are, if the love story is bothering you, it isn't necessarily because it's happening too fast. It's likely because there isn't true emotional connection happening to make it believable. When we relate to and believe what is happening emotionally, we tend to forget technicalities like time.
Can you think of other great insta-love stories that take place in a relatively short amount of time and yet still worked? Let me know in the comments!
About 'The Seventh Sun' by Lani Forbes
The sun of the Chicome people has been destroyed six times. First by water, then by storm, fire, famine, sickness, and beasts. After each apocalypse, the creator goddess allowed one of her divine children to sacrifice themselves to save civilization. The gods paid their blood as the price for the lives of the people, and the people owed them blood in return.
Mayana is a noble descendant of the water goddess and can control water whenever her blood is spilled. She has always despised the brutal rituals of her people — especially sacrifices. She can't even make it through a routine animal sacrifice without embarrassing her family. Prince Ahkin has always known he would be emperor, but he didn't expect his father to die so suddenly. Now he must raise the sun in the sky each day and read the signs in the stars. But the stars now hint at impending chaos and the sun has begun setting earlier each evening. Ahkin fears he might not be strong enough to save his people from another apocalypse. And to add to his list of worries, he can't truly become emperor until he selects a wife.
Mayana and six other noble daughters are sent to the palace to compete for Ahkin's hand. She must prove she is a true daughter of water and face the others who have their own magical gifts from wielding the elements to the control of animals, plants and healing. And in a society centered on rigid rituals, Mayana must conceal her traitorous beliefs because if she doesn't make Ahkin love her, she will become a ceremonial sacrifice to bless his marriage. But darker forces are at play and it won't matter if Mayana loses if the world ends first…
Rich in imagination and romance, and based on the legends and history of the Aztec and Mayan people, The Seventh Sun brings to vivid life a world on the edge of apocalyptic disaster.
The Seventh Sun by Lani Forbes will be available on February 18, 2020. You can preorder your copy now from Amazon, Barnes & Noble, The Book Depository, or Indiebound. Also, don't forget to add it to your Goodreads "to read" shelf!