Starbucks recently began offering a new Butterscotch latte that fans immediately began comparing to the Butterbeer found in the world of Harry Potter. The question is, are they similar at all?
I've seen a lot of buzz recently concerning this new Starbucks latte, which many people online are claiming is the coffee maker's response to J.K. Rowling's beloved Butterbeer. In fact, a lot of people think it tastes like Butterbeer:
THE NEW STARBUCKS BUTTERSCOTCH LATTE AND FRAPPACHINO TASTES LIKE BUTTERBEER WITH COFFEE! THIS IS NOT A DRILL! #bliss

— Anna Muckenfuss (@AnnaMuckenfuss) February 18, 2016
PSA the new Starbucks Smoked Butterscotch drinks taste like butterbeer, you're welcome

— Micaela Ensey (@micaelaensey) February 18, 2016
the new smoked butterscotch latte at starbucks tastes like butterbeer w espresso and let me tell you friends it has made my whole day better

— Katelyn Keeling (@katiemeli15) February 18, 2016
.@Starbucks this might be the best thing I've ever tasted. iced smoked butterscotch latte FTW. #BUTTERBEER ?? pic.twitter.com/DG68x54LJ3

— matthew scott m… (@irobotyoujane) February 18, 2016
It wouldn't be too surprising if Starbucks decided to secretly release a drink specifically tailored to Harry Potter fans. For years there've been "Starbucks hacks" (including one posted here on Hypable) which reveal how you could order a Butterbeer-type drink at Starbucks. Fans were excited by the idea because finally you could enjoy a Butterbeer like you're chilling with Harry, Ron, and Hermione.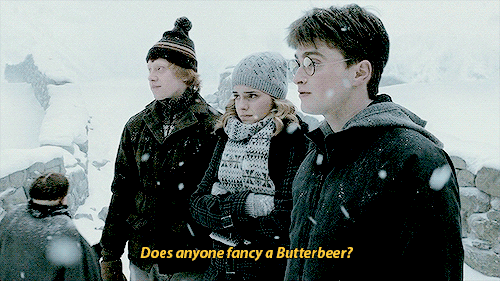 But people forget that Butterbeer is available IRL: At Universal's Wizarding World of Harry Potter in Orlando, Hollywood, and Tokyo, and at the Harry Potter Studio Tour in England. (Yes, we recognize that for the majority of fans it's not easy or cheap to get to these four places).
The Hollywood Wizarding World doesn't officially open until April, but soft openings (in which they secretly open the park without announcing it to the public) have been going on regularly since February 12.
Since I live 10 minutes away from Universal Hollywood, I decided I would do a side-by-side comparison of Starbucks' Butterscotch Latte versus the Wizarding World's Butterbeer.
One of the most exciting aspects of the Wizarding World's cold and frozen Butterbeers is that their recipes were personally selected by Harry Potter author J.K. Rowling. She decided that these were the Butterbeers fans should enjoy in the parks. So for all intents and purposes, this is the official Butterbeer that all other Butterbeer recipes should be compared to.
Univeral Hollywood's shopping area CityWalk has a full-service Starbucks, so while on my way to a recent Wizarding World soft opening I took a quick detour into this particular coffee shop.
Right at the front they were promoting their new Butterscotch drink:
I ordered a small Butterscotch latte — featuring a whopping 41 grams of sugar! — for the outrageous price of $5.18:
Before tasting it, I walked it over to Universal Hollywood's Wizarding World and headed straight for the Butterbeer stand. One frozen Butterbeer, please!
It was a hot day, so I stepped into the Hog's Head to do my taste test:
On the top, both have frothy happiness (though the official Butterbeer's is much more cream than latte froth)
In the air, they both smell like butterscotch
I was excited by the fact that the Starbucks' Butterscotch Latte smelled like the Butterbeer… I thought Starbucks may've really made their own Butterbeer!
I already know what the Wizarding World's Butterbeer takes like, so I decided to dip into Starbucks' Butterscotch Latte first
And I'm sorry to report, I was extremely disappointed. The presence of butterscotch ends at the smell. The butterscotch flavor wasn't noticeable in the taste at all. It simply tastes like a macchiato.
It's important to note that Starbucks is calling this a "Smoked Butterscotch Latte," which implies that there won't be much sweetness in there. Which is weird, because when people order something with butterscotch in the title they probably want to enjoy some sweetness.
I'm not the only one who was disappointed by the new Starbucks drink, Butterbeer comparisons aside:
Starbucks Butterscotch Latte thing review: Not sweet enough

— Boney B (@NHKira) February 26, 2016
I tried the Smoked Butterscotch Frappuccino from Starbucks and I don't really like it?

— Wazzup_Red~Bone (@PrettyLitto_C) February 26, 2016
My verdict on the @Starbucks new Butterscotch Latte: Underwhelming and frankly disappointing… I really wanted to like it but I just don't.

— Sara (@Skates9902) February 26, 2016
Smh the smoked butterscotch latte from sbucks dont even taste that good :(

— caitlin (@CaitlinGragasin) March 2, 2016
Of course there are plenty of people out there who do like the new drink. Good for them! But they need to try real Butterbeer to see what they're missing. In my opinion, they'll strongly dislike the latte once they try out what J.K. Rowling came up with.
Verdict: Starbucks' Butterscotch Latte isn't anything like Butterbeer, so stop saying that