Pop culture super stars Lady Gaga and The Muppets have reportedly shot a holiday special for ABC, according to E! Online.
While ABC has not formally announced the Lady Gaga/Muppets holiday special just yet, E! says that the shoot took place in Los Angeles.
If true, this won't be the first time Gaga hosted a holiday special for ABC. The singer united with Tony Bennett and performed songs from Born This Way in November 2011 and was called A Very Gaga Thanksgiving. She performed "Born This Way," "Marry the Night," "You and I," "Hair," "The Edge of Glory," and covered "White Christmas." Bennett appeared to duet on "The Lady Is a Tramp."
The Muppets and Gaga both have projects to promote, so the timing of the special makes sense. The latter is preparing to release her fourth studio album titled ARTPOP this November, and The Muppets sequel Muppets Most Wanted hits theaters this March.
Speaking of holiday specials, tomorrow night ABC will air Pixar's first television event Toy Story of Terror! just in time for the Halloween season.
In somewhat related news Gaga announced today that her second single titled "Venus" will be released on October 25 (two days earlier than initially announced). Her first single from ARTPOP was "Applause."
We'll be sure to bring you the formal Gaga/Muppets announcement when it is announced by ABC. No word yet if Gaga will break out her Kermit dress, which she wore once during a German interview to make a statement against wearing fur: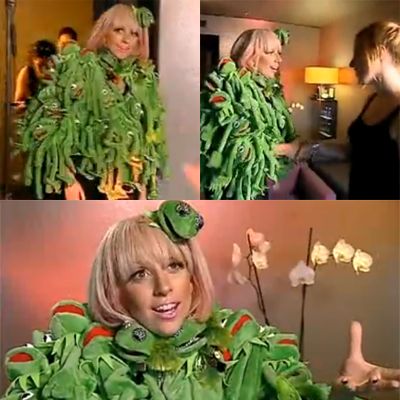 (Pictured at top: Lady Gaga and Kermit at the 2009 MTV Video Music Awards.
Thanks, E! Online.