Merging two of our favourite fandoms in the most hysterical way, here are our top 16 (and a half) Harry Potter and Mean Girls mash-ups.
If you love Harry Potter and Mean Girls (and who doesn't?), then the only thing that can improve these two fandoms is by mashing them together.
Mean Girls is an infinitely quotable movie. Tina Fey made "fetch" instantly recognisable, despite it "not being a thing." Her intelligent and ironic script gave a generation a way to express themselves, and Mean Girls quotes have slipped into every day conversation.
Just try and pretend that you have never uttered "Get in loser, we're going shopping," or "Her hair is so big because it's full of secrets." Mean Girls has pervaded life in a way that most pop culture phenomenons never managed, or maintained. That is, until you think of how many times you manage to work "HE WAS THEIR FRIEND," or "Mischief managed" into your conversations.
So what happens when Harry meets Cady? Do the snarky quotes that we love work as well for our favourite boy wizard and his friends? Can Fey's clever dialogue fit into Hogwarts?
We think these (hysterical) memes and GIFs are proof that Mean Girls can improve absolutely everything. And a bit of Harry Potter never hurts, either.
So make like Glee, and create a completely hilarious but probably unnecessary mash-up. Just be grateful that our picks come only with laughs attached, and not a PSA.
When 'Harry Potter' meets 'Mean Girls'
1. "I can't help it that I'm so popular"

Via stuffpoint.com
2. "Your mom's chest hair!"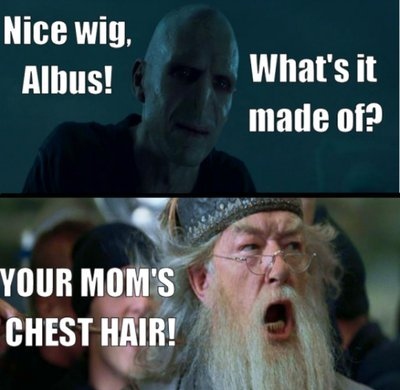 Via favim.com
3. "Four for you Glen Coco!"

Via bloglovin.com
4. "You can't sit with us!"

Via d-sea.tumblr.com
5. "On Wednesdays, we wear pink!"

Via daleyprophet.tumblr.com
6. "Is butter a carb?"

Via eastendbeauty.tumblr.com
7. "But he's my first cousin"

Via weheartit.com
8. "Not allowed to wear hoop earrings"

Via sushiandsamba.tumblr.com
9. "It's full of secrets"

Via weheartit.com
10. "It's like I have ESPN or something"

Via fuckyeahmeangirlsmacros.tumblr.com
11. "I'm a mouse. Duh"

Via vunzooke.com
12a. "Get in loser"

Via imgfave.com
12b. "We're going shopping"

Via daleyprophet.tumblr.com
13. "…you can't just ask people…"

Via snarkythelostdwarf.tumblr.com
14. "You're so stupid!"

Via labyrinthphan97.tumblr.com
15. "The inventor of toaster strudel"

Via thatbitch101.tumblr.com
16. And one more…

Via laughingmidget.tumblr.com