Pottermore is ready to sort you into your Ilvermorny house! But where is that pesky Pottermore password? Why isn't there a spell for this yet!
Everyone is getting sorted into their Ilvermorny houses. Thunderbird, Horned Serpent, Wampus, and Pukwudgies rise among your Twitter and Facebook feeds. Identity crises are unfolding all across the internet for everyone. Except you. Why? Because you lost your Pottermore password (but at least we no longer have to remember our randomly-created usernames).
You've been to the homepage, submitted your "Forgotten Password" request and now you wait for the moment when you too can log into the site and begin your sorting quiz. What unfolds in those tense five minutes of bouncing between refreshing your email and watching the results roll in may go a little something like this!
Panic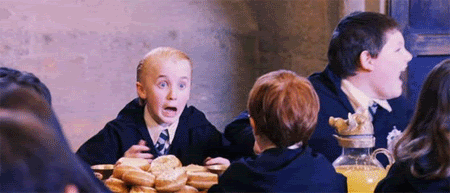 Source
Pottermore releases its Ilvermorny sorting quiz! Password, password, someone give me a password!
Jealousy

Source
Why is everyone smarter than me? I cannot believe that ALL of these people saved their passwords! There is no way! The password retrieval system must not like that I have now asked for this log in information 150 times.
Look at everyone flaunting their new houses, getting into fights! Why can't that be me?
Worry
Source
Now I've read all the descriptions for the houses and I know the houses I cannot be sorted into. What if I get Thunderbird? Or Pukwudgie? Wait, which one is like Hufflepuff again? I just know I cannot be whichever one is like Slytherin.
Indifference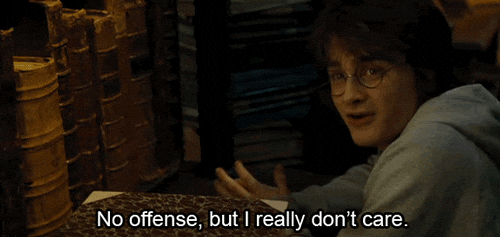 Source
You know what, this new material isn't for me. I am happy with my Hogwarts house and simple life. Who needs a North American school anyway? Let everyone else worry about what it means to be a Horned Serpent. Besides I don't have any more room in my closet for another house shirt.
Relief
Source
THE RESET PASSWORD LINK IS HERE! Forget it, I need to know! Now, let's see, "Which jinx would I never want cast upon me?"
Did you struggle with your Pottermore password?
Looks like we weren't the only ones on the strugglebus:
I really want to join the cool kids (for values of cool) finding their American house, but I can't find my Pottermore password :(

— Constance Grady (@constancegrady) June 28, 2016
i don't remember my pottermore password

— farting corpse (@themaraudads) June 28, 2016
When you forget your pottermore password and have to make a new acc but get sorted into the same house ?

— chlo (@lgbtcosima) June 28, 2016
Time to make my 50th pottermore account cause i can never be bothered to remember my password or username

— Sarah ✨ (@kotngotn) June 28, 2016
I need to rejoin Pottermore because I can't remember my username or password and I need to know my Ilvermorney house

— Vibha/6 (@joshawnpotter) June 28, 2016
So I made a new Pottermore account to sort my Illvermorny house cause it took to long to send my password and IT SORTED ME INTO HUFFLEPUFF

— ⚡️Travis (@travisthegrimm) June 28, 2016
⚡️ Pottermore releases Ilvermorny sorting quiz
George R. R. Martin answers the pressing question: Will A Song of Ice and Fire end the same way as Game of Thrones?